Founded in 2001, This Is Anfield has grown into one of the largest independent publishers in world football. Our wide audience reach allows us to have a powerful voice amongst supporters of Liverpool Football Club.
We create multimedia-rich news reports, opinion articles and features on Liverpool FC, updated around the clock by an experienced team of writers and web developers.
Our lively community of football fans engage in opinionated conversation, polls and social media channels.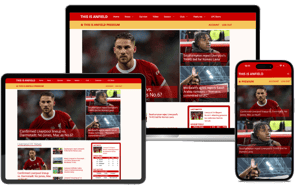 Data sources: Google Analytics, Flurry. Correct as of September 2023.
Advertising Opportunities
Deliver your engaging HTML5 creatives to our multi-size, multi-platform display inventory.


This Is Anfield's inventory is available on most major marketplaces and ad exchanges. Please utilise your preferred DSP to begin bidding on our inventory, or for smaller campaigns, use the Google Display Network.
We collaborate with a select number of relevant partners to curate and deliver engaging editorial and native campaigns to our worldwide audience. Our recent partners include: