Joined

Sep 15, 2012
Messages

5,590
Carra's last match. It's sure to be an emotional one, and I'm sad to see the day has come, although I'm quite excited for the match. I want to hear 'We all dream of a team of Carraghers' like its on a loop for ninety minutes straight. I'm sure there'll be familiar faces in the crowd to come see Jamie off, I wouldn't be surprised to see Sami, Ged, Didi, Xabi, Robbie, Danny Murphy, Michael Owen, and the like there. I'm chuffed that he'll have the opportunity to captain the team as well.
The atmosphere will be fantastic.
Still, it'll hurt to see him go.
Not much riding on this one, and I don't expect a tough match; QPR is relegated and we'll surely be amped for Jamie's last.
​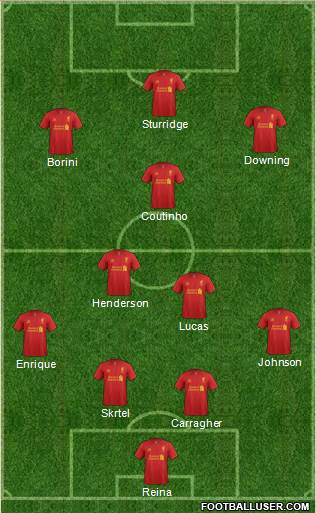 ​
That's pretty much what I expect to see, although I would love to see some youngsters get a chance. Shelvey ought to be subbed on at some point, and I'd like to see Suso, Lloyd Jones, Robinson, Teixeira, Adorjan, Morgan or Ibe. Maybe Assaidi, too, if Rodgers feels like it. Wouldn't mind Coates for Skrtel, but I expect whichever doesn't start this one to move on in the summer. Unless Skrtel's still out solely because of illness.